Today's LMSs need to be light weight, customizable, and agile, NOT monolithic, heavy behemoths
Saras™ is built on a micro services architecture that allows you to customize the solution based on your requirements. Simply put, Saras™ is the perfect pay-as-you-go style solution that gives you complete flexibility in customization. Whether you have 1000 users or 50000 users, Saras™ can adapt to your requirements, in the process save you from the hassles and cost that you would spend on a large scale LMS, where half the features are never used.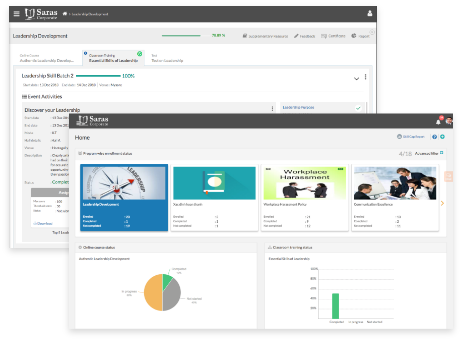 Learning solutions that reduce your operational cost and increase your return on investment
Focus on learning to improve on-the job skills
Power to the learners
allowing them to plan
their own learning journey
Remedial learning leading to better retention
Seamless and effective
compliance training
Engagement is at the Heart of Learning
Key challenges in learning today is the lack of engagement between the content and the learner. Any LMS should act as a bridge, creating an engaging environment for the learner and fostering high levels of motivation to learn.
Saras™ has proven data that shows increase in Saras™ usage – a key indicator to show high levels of learner engagement.
Mobile First Approach
Legacy LMSs are built on older technologies that do not allow the flexibility to the users to learn at their own pace.
Saras™ Corporate LMS mobile is a light-weight learning solution that can be tailored to your requirements. It is perfect for self paced and remedial learning.
Saras™ supports major eLearning standards and protocols to measure learners' experience and outcomes
SARAS integrates easily with third party enterprise software and can be deployed on the cloud as well as on-premise.
Shareable Content Object Reference Model (SCORM)
The Aviation Industry CBT Committee (AICC)
The Experience API (xAPI)
Question and Test Interoperability (QTI)
Learning Tools Interoperability (LTI)
Select your Saras™ version that is best suited for you

Saras™ Lite
Perfect for small organizations, looking to set up a lite and functional off-the-shelf learning solution
Completely SaaS based
Incorporates both online and classroom training features
Enables critical training around compliance and sales
Strong assessment engine to help retain and reinforce
Responsive design, providing a great learning experience

Saras™ Enterprise
Medium to large enterprises who require a complete suite of learning services and tailored solutions
Incorporates all the functions from learning management to performance management
Cloud and on-premise deployment available based on your requirements
Easy to integrate with third party Enterprise systems and databases
Analytics packed reporting

Saras™ Retain and Reinforce (Mobile)
Latest mobile first offering from Excelsoft focusing on retain and reinforcement learning
Based on micro learning methodologies
Fit for both Small and Medium Enterprises, and Large enterprises, and perfectly compliments your existing Enterprise level LMS
Interactive and video based content delivery providing short bursts of learning and assessments
Focusing on mobile first content delivery, and can easily integrate with your existing employee authentication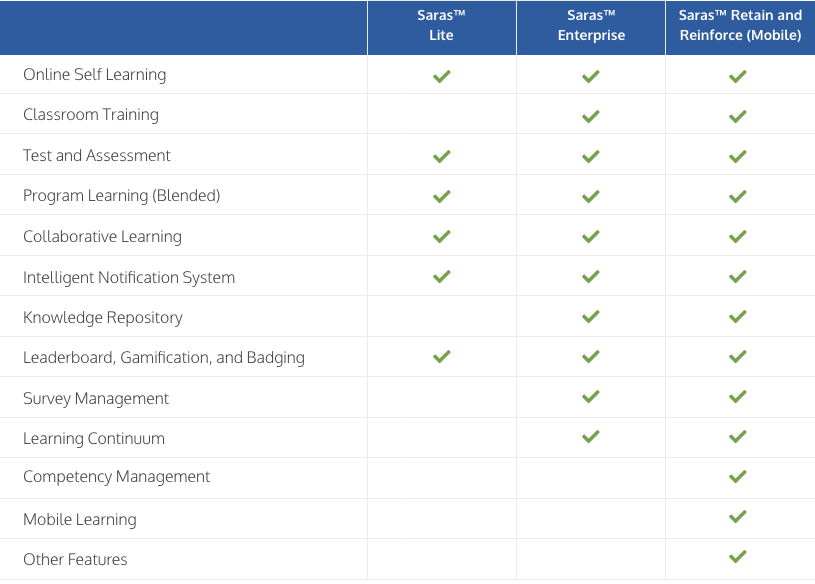 Book a demo today to learn about each of these modules
Saras™ digital footprint spanning across multiple industries
Saras™ LMS empowers educational institutions and businesses for delivering quality training. Experience building mechanism with a personalized demo.
The numbers speak
Spread across educational publishers, universities and schools, licensing/awarding bodies, as well as the government, defense and corporate sectors.