enhanzED – Our Sales Enablement Platform
Learn how enhanzED helped a leading provider of Enterprise Revenue and Profitability Management Solutions for the media industry bridge the gap between their Product-Marketing-Sales teams spread across 30 different states in North America
SarasTM for Government Agencies
Learn how a very large State Government agency acting as the principal human resource provider for the Executive Branch of State Government used our secure and reliable SarasTM Test and Assessment solution addressed the Technology, People, Culture and System Challenges in Transitioning from a Legacy System.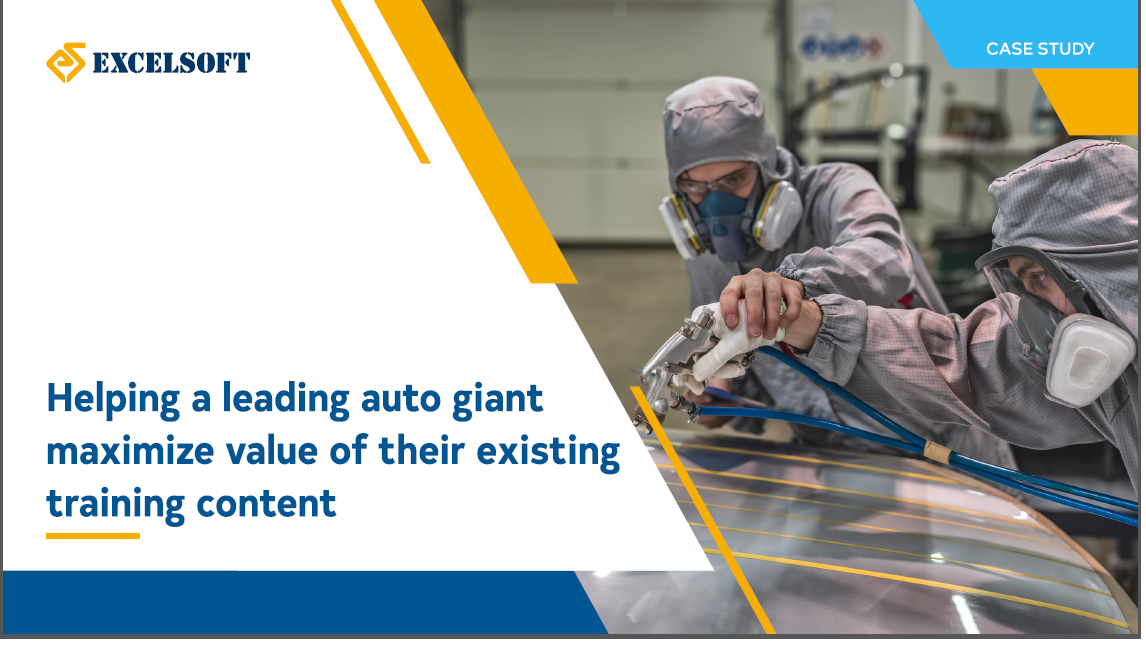 Helping a Leading Auto Giant Maximize Value of Their Existing Training Content
Learn how we helped a multinational automobile giant migrate to a new age EdTech ecosystem for meeting their learning and development needs and accomplish their business goals.
Development of Microsoft Office Simulations for a Publisher
Learn how we assisted by developing Microsoft Office Simulations for a major publisher having a global reach of over 11 million students, aiming to improve the higher education results, one student at a time.
SarasTM for Assessment and Certification of Nurses
Learn how SarasTM Test and Assessment, our robust and comprehensive assessment solution helped benefits group representing more than 44,000 long-term care workers meet their requirement for assessing and certifying the skill sets of caregivers responsible for treating older adults and people with disabilities.
SarasTM Test and Assessment for Certifications
Learn how Excelsoft team identified the challenges faced by users of the legacy system at the certification board and proposed a solution using our SarasTM Test and Assessment platform which helped meet the board's current and futuristic requirements, thereby impacting the candidate enrollment numbers in a positive way.
CollegeSPARC for BYU-Idaho
CollegeSPARC deployed for BYU-Idaho addresses various parts of the students' journey within the college and towards a career through some of the key modules that capture and provide the necessary support to the students forming an integral part of CollegeSPARC and the student journey at BYU-Idaho.
SarasTM for Online University
One of the largest online universities serving more than 81,000 students across the USA and delivering online competency-based degree programs to help students succeed at the workplace by bridging their skill gap and making them future-ready.
SarasTM Corporate Solutions For Bank
A large bank in India was looking for a capable learning partner to provide the best fit solution for seamless onboarding and delivery of their training programs to re-skill and upskill all of its employees  across the country
SarasTM Corporate Solutions For Total Insurance Solutions Provider
An insurance company looking for a comprehensive solution to provide Onboarding, Product and Compliance Training, and conduct Skill Assessments to its frontline include agency channel, pre-employees, and employees
SarasTM Corporate Solutions For A Life Insurance Company
A leading life insurance company in India looking for a robust learning engagement platform with effective support for a large number of business associates and employees for employee engagement, onboarding, product training, knowledge sharing, and on the go mobile learning.
SarasTM Corporate Solutions For A Security and Intelligence Service Provider
One of the largest security service providers looks for a simple and easy to use, fully mobile learning solution to deliver onboarding, skill, and functional training, and assessments for its large workforce.
Distributed Delivery Architecture: A whitepaper on how it can help overcome the problems of internet connectivity which acts as a great barrier to learning.
Even though the technology is rapidly changing the education system, there are still schools in certain geographies that face problems of inadequate internet bandwidth and frequent loss of connectivity, causing great barriers to learning. Learn how the Synchronization Framework of Saras K12 LMS solution overcomes these problems by downloading the free white paper.