Excelsoft Advantage
Agile methodologies, deep understanding of education domain, developing world class enterprise solutions using advanced technologies, rich experience in multiple technology stacks, and strong committed workforce are primary drivers making us preferred and trusted partner for many of our world class customers.
Standards and Specifications
Processes
Agile business focus and quality delivery
50+ projects executed using SCRUM
10+ projects executed using XP
30+ projects executed using Kanban
Expertise in:

Scaled agile framework
Modernizing monolithic/legacy systems
Futuristic user experience and technology design
Focus on quality – test first and test driven Development
Continuous Integration (CI) and delivery
People
Strong team of 700+ associates covering every aspect of the services you need:
Project Management
Technology Solution
Contemporary UX
Quality Assurance
Performance Engineering
Release Engineering
Support and Maintenance
Instructional and Graphic designing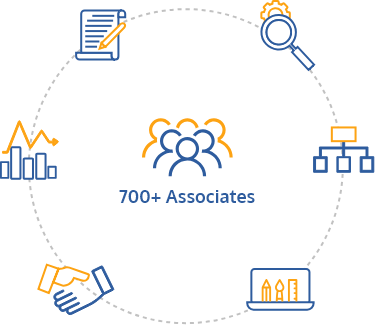 Technology Stack
Platforms
OS (Windows, Mac)
Mobile OS (iOS, Android)
Browsers (Safari, Chrome, Firefox, IE)
Front end
Backend
Database
SQL server, Oracle, Cassandra, PostgreSQL
MySQL, MongoDB
Opensource Platforms
Moodle , Drupal. WordPress, DNN, Shibboleth
Cloud
Domain Expertise
Education Technology focused organization
Catering to K12, HED, Corporate and Vocational space
Deep understanding of technology, tools, and platforms
Long term partnerships with publishers and educators
Standards and Specifications
Question and Test Interoperability (QTI)
Learning Tools Interoperability (LTI)
Common Cartridge (CC)
Learning Information Services (LIS)
OneRoster
Sharable Content Object Reference Model (SCORM)
Experience API (xAPI)
Aviation Industry CBT (Computer-Based Training) Committee (AICC)
Web Content Accessibility Guidelines (WCAG)
Americans with Disabilities Act (ADA)
508 accessibility standards
Looking for cutting-edge and cost effective technology solutions?